"Education is the key to success," a saying we've heard for more than once in our life. As students, the elders have always told us to value education more than anything else. They have advised us to do good and excel in school. That's the goal. However, doing good is vague. When you set academic goals, you have to be specific enough so you know where you're actually heading. Whether you are in elementary, high school, middle school, or college, we have collected the best student goal-setting templates we found on the Internet for you to use.
Free and Printable Student Goal-Setting Templates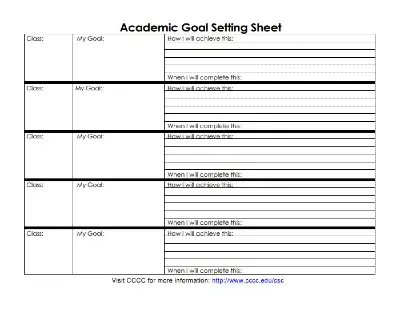 source: cccc.edu
In school, there are different classes we need to attend that sometimes, we get confused about which ones to prioritize. With this academic goal-setting sheet, you can clearly lay out your goals for each class, the action steps you need to take to achieve them, and the target date for accomplishing such objectives. You can download this document in PDF file format for your convenience. Get yours now!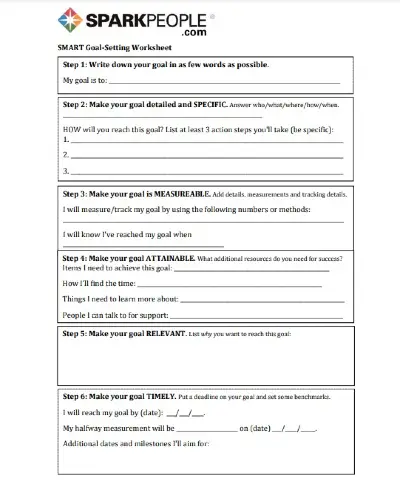 source: sparkpeople.com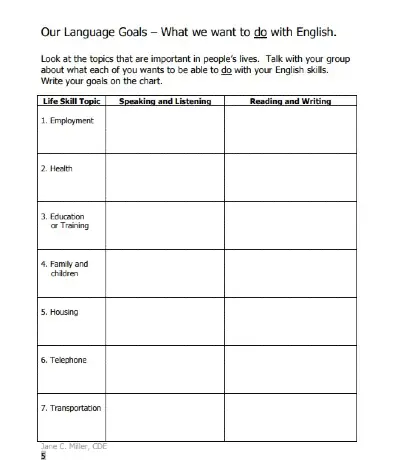 source: utelearning.org
Just like high school students, adults also need to develop a systematic approach to reach their goals. That is why we offer you this comprehensive goals toolkit for adult learners. The content of this file guides you in achieving your objectives in different aspects of life, be it personal, employment, educational, or communal. With this goal worksheet at your disposal, reaching your goals wouldn't just be a possibility. Download now!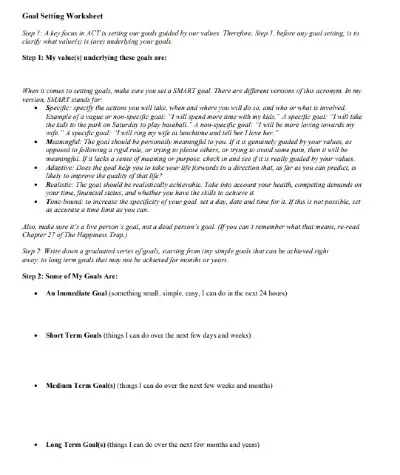 source: actmindfully.com.au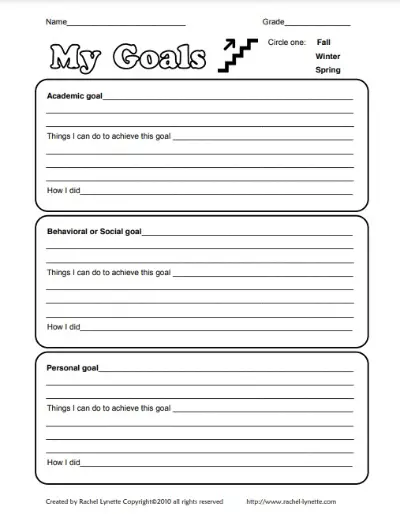 source: ecu.edu
Your goals in school do not always equate to having good grades and being the top student of the class. You can also set behavioral, social, and personal goals that will go along with your academic targets. Start and end your school year right by setting goals with the help of this student goals handout. This file comes with well-formatted content wherein you can list down your goals, action steps, and progress. Click download now!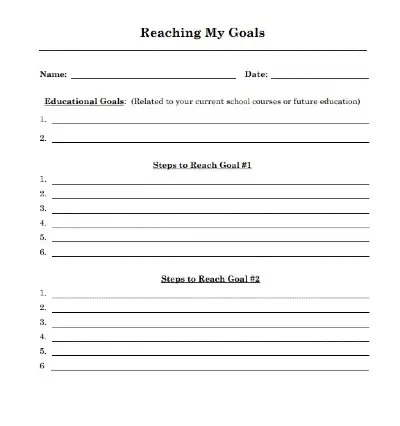 source: fldoe.org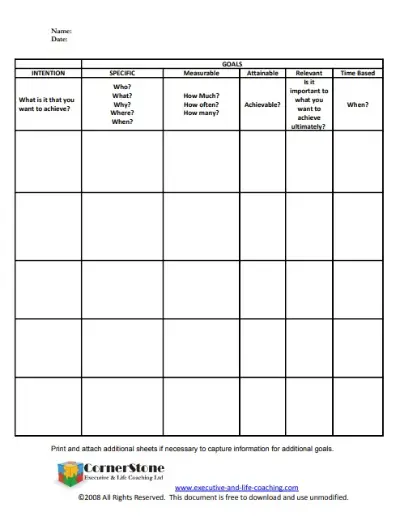 source: ndi.org
One of the most popular goal-setting technique is SMART. The acronym stands for specific, measurable, achievable, realistic, and timebound. With such a well-defined goal, you can devise a clearer strategy to reach them. That said, we offer you this SMART goals guide, which will help you come up with a systematic approach to achieving your academic objectives. This one is for free. Download your copy today!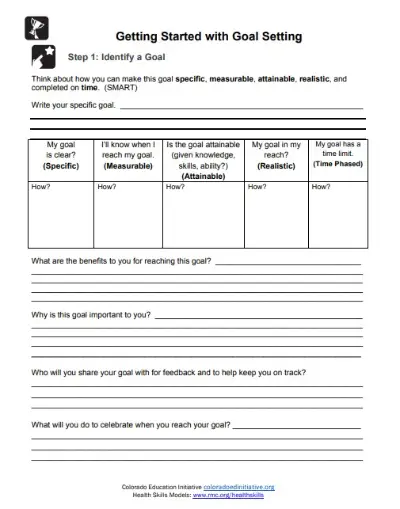 source: coloradoedinitiative.org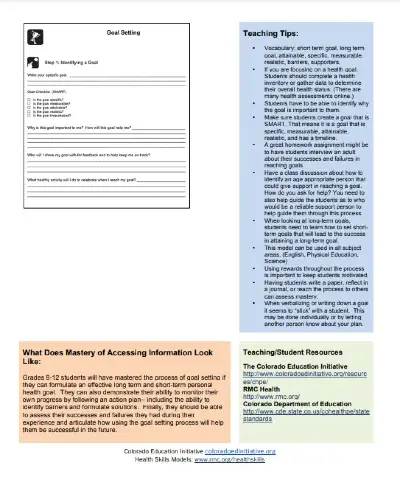 source: coloradoedinitiative.org
Having a clear goal-setting model is vital for younger students to achieve academic success. It allows them to improve in the academe and their personal lives. To help you with that, here is a goal-setting worksheet you can use that is perfect for 9th to 12th-grade students. With this document, you will learn the four steps you have to follow when setting and accomplishing a goal. Click download now!
Goal-Setting for Students: A Guide
According to a survey conducted by Mission Australia last 2019, only 10% of young people ages 15-19 are "extremely confident" that they will achieve their work or study goals. Meanwhile, 37% are "very confident" and 42.2% are "somewhat confident." The remaining 8.2% and 2.6% are "slightly confident" and "not at all confident," respectively.
An individual's confidence in reaching their goals primarily lies in their strategies and the intensity of their targets. Therefore, one must prepare a systematic approach that will lead them to their objectives. If you are a student, here's a goal-setting guide for you:
1. Identify Your Goals
As mentioned beforehand, you must be specific enough when identifying your goals. Saying you want to get good grades may sound like a definite objective, but what are "good grades" for you? Are these straight As or getting B+ will suffice? Moreover, you have to make sure that these goals are measurable. This way, you will know whether or not you have already accomplished your objectives. Most importantly, your goals have to be achievable. While it would help to challenge yourself, you will just end up disappointed and drained if you set a goal that is beyond your reach.
Apart from that, remember the importance of setting deadlines. You may have a goal, but until when are you going to work for it? So be clear about when do you expect yourself to deliver such goals.
2. Break Down Tasks
Now that you have already specified your goals, you have to list down the steps you need to take to achieve these. In doing so, see to it that you use the verb-noun structure. For example, study lessons 1-5 in English at 7:30 pm. Furthermore, if you have major projects that you can't finish within a day, break them down into doable tasks. Let's say you need to submit a video presentation, don't just write down "create a video for English class." Prepare a to-do list, which includes items like writing a script, shooting the scenes, editing the video, and so on.
3. Identify Possible Problems
Life always has something unexpected to offer, and it includes problems. Thus, before such issues occur, you need to be ready to face them. Analyze the problems you may face and think of a solution or a back up plan for each. This way, you will not get stuck in the middle of nowhere as you try to achieve your goals.
4. Receive Help from Others
"Accepting help is its own kind of strength.," This line from Kiera Cass's book, Happily Ever After, will be a constant reminder that receiving help will never be a sign of weakness. That is why if you ever need help in your academics or personal life, always seek help from people you know are willing to do so. If you think that you need help in studying for your exams, you may get a tutor or ask your classmates to have a group study with you.
Life in the academy isn't always easy, but with your constant effort and dedication, you'll definitely get that diploma!