 Written by Marjory TaylorMarjory Taylor| February 10, 2021 in Worksheet
Books, no matter the genre, inspire readers to imagine different scenarios, people, and places. Most especially, books bring joy to those using them—empowering the minds and widening the vocabulary. In particular, fictional novels (and even some non-fictional ones) stir the imaginations of people by using dozens of context clues and wordplay. But besides these common writing guides, authors also use literary maps to fully maximize the reading experience of every person holding a book. 
Bringing life to small concepts, authors can sketch out book-specific maps for the convenience of readers and map enthusiasts. So, let's find out the best printable literary maps with this article. 
The Wonderful World of Literature
The creation of maps doesn't only aid the readers with the overall structure of a country or continent, but it also helps writers visualize the world he or she has designed. According to the Library of Congress, literary maps has two main purposes. One, it showcases the contributions and achievements of writers living in that specific area. Two, it displays the real places often altered to meet the concepts put out by the authors. Now, literary maps can be connected to a particular state or not. The primary focus of this material is to lay out the entire location where the story evolves.
Apart from creating literary maps, authors also use mind mapping to outline the stages of a story. In an article by writer Pat Fredshaw, mind maps help novelists organize their writing process. This mind mapping technique uses Venn diagrams, keywords, and images to comprehend the flow of the story. Additionally, mind mapping uses literary maps (continent maps or city maps) to interconnect dots and synthesize all ideas into a coherent form. 
Best Sample Literary Maps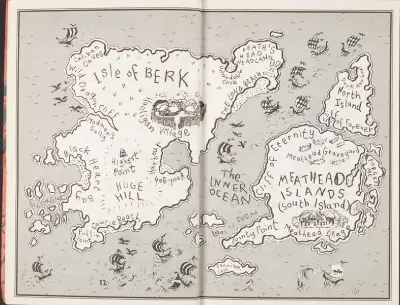 source: The Writers Map: An Atlas of Imaginary Lands by Huw Lewis-Jones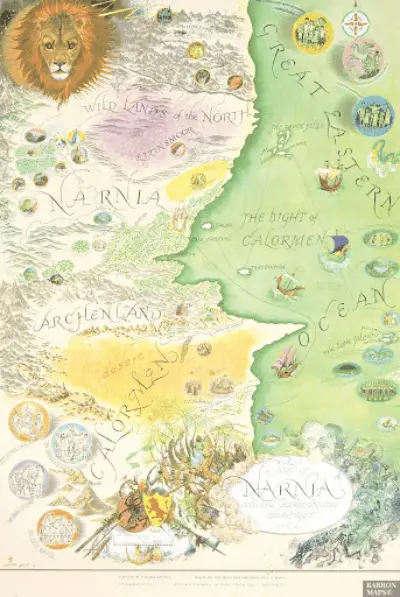 source: barronmaps.com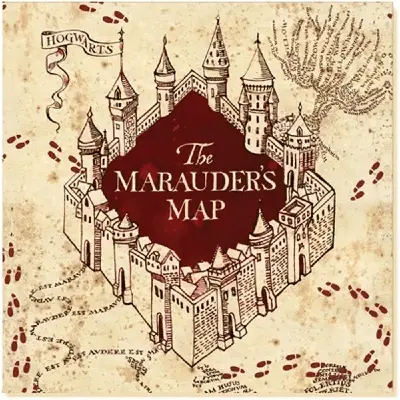 source: pinterest.com
Considered as one of the most exclusive maps in the Harry Potter Series, the Marauder's Map is a treasure for fans and book enthusiasts. Often used for mischief, this map shows the footprints and names of people roaming the corridors of Hogwarts. The map's structure is more than three pages long, but we have a condensed version which you can download for free.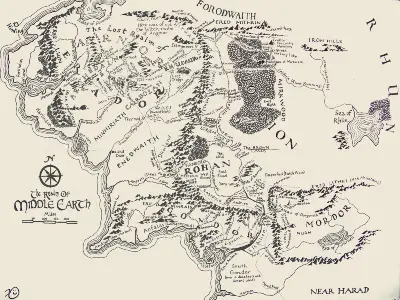 source: imgur.com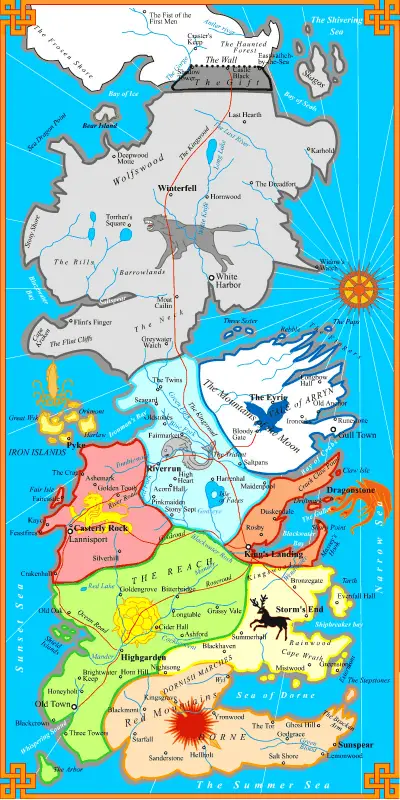 source: imgur.com
Despite the mixed reviews from critics, Game of Thrones continues to be one of the biggest franchises of the 21st century. Its concept map is huge, and people love the medieval structure of the series. For those who love the series, this printable map is the best source material for you.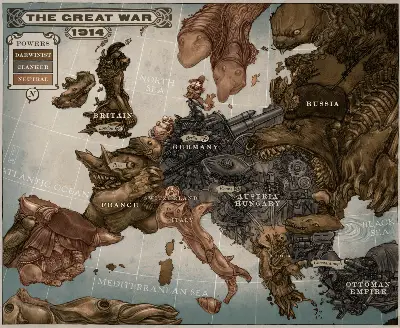 source: scottwesterfeld.com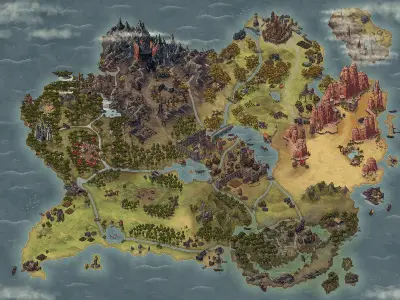 source: reddit.com (via: freshcircuits)
From festive Easter parties to bright-colored roads, Alice in Wonderland remains a famous children's book throughout the decades. Following a white rabbit with a clock, Alice got lost in a magical land. And for years, many people debated about the place created by Lewis Carroll. At the turn of the century, many artists started to design maps based on the book. And this particular piece has intricate details of the location.
source: The Writers Map: An Atlas of Imaginary Lands by Huw Lewis-Jones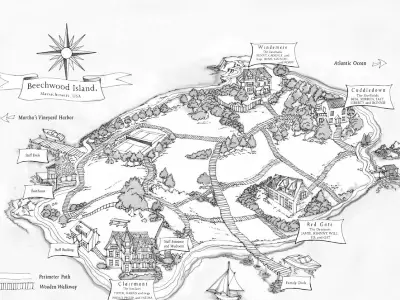 source: haikudeck.com
source: pinterest.com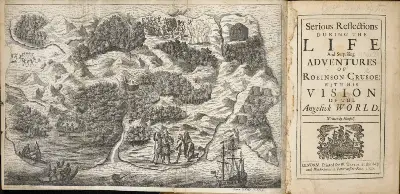 source: The Writers Map: An Atlas of Imaginary Lands by Huw Lewis-Jones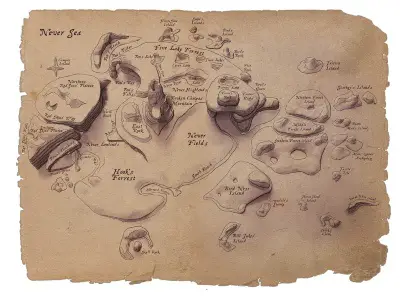 source: deviantart.com
How to Explore Wonders with These Literary Maps
The world of literature is more than just wise words and funny conversations. It also looks at another perspective of life—whether in this lifetime or another. Thus, literary maps have different uses for people. But importantly, it plays an essential role in educating students and individuals about the beauty of this world.
Aside from looking at the printed map and eating delicious ice cream on the side, you can also explore other wonders of such maps with your friends. Here are some excellent tips to help with your exploration of this world.
Open an Atlas or World Map
One way to enjoy looking at a literary map is to compare it with the real-life map you have at home. If the map derives from a specific country or state, you can look at the locations and try to guess the goal(s) of the author. Furthermore, if the map comes from mythologies, you can read through old stories about fulfilling friendships, hopeful journeys, and tragedies.
This way, you can immerse yourself in a new culture and learn more life values. Additionally, it's great a way to bond with friends and family members.
Engage in conversations with other people using literary maps. You can also share different stories with your kids if you have any. Moreover, you can talk about these narratives during Christmas, Father's Day, or New Year's Eve. It's a fun way of opening opportunities to discuss the importance of books.
Together with maps, you can encourage others to try reading novels exploring fiction and non-fiction genres.
Creating Your Own Version of the Map
Now that you have a map, you can get creative and start making your version of the location. Grab a piece of paper and draw your interpretation of the place. If the book has a film adaptation, you can start with movie checklists. Afterward, you will begin drawing the significant points and placing characters onto them.
Besides creating a map, you can also design one if your favorite novel doesn't have a map included in the paperback. Even more, you can devise a strategic conceptual map for your comfort.
There are so many things you can do to make your book adventure more exciting. And to dedicate time for this hobby, get yourselves some time sheets to organize your schedules. Enjoy exploring with your maps, everyone!
Frequently Asked Questions about Literary Maps
Can I print a non-colored version of the map?
Yes, you may print the map in a black and white format. However, some parts will not look the same as it is on the provided pictures above. To get the best experience, you should get it printed in colors.
Are all the maps in a one-page format?
In this article, some of the maps are more than four pages long because of the details of the map. If the map is too compressed, it will lose its intricate details. Additionally, the information makes the map more meaningful to the user.
Can I have multiple downloads of the maps?
Yes, you can download the maps multiple times and use it much as possible. For instance, you can use the map during events and normal evening conversations. Furthermore, you can write on the printed maps to categorize places or things.