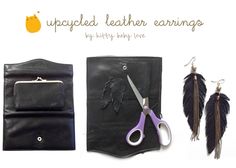 Written by Marjory TaylorMarjory Taylor| March 09, 2016 in Worksheet
DIY Leather Feather Earrings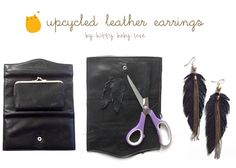 This is an original edition of Make it Monday- a weekly feature of tutorials.
THRIFTING LEATHER AND ALTERNATIVES
I love thrifting items, and often times I thrift for raw materials. 1) This is better for the environment- it minimizes the waste that comes from manufacturing new materials (even if they are eco-friendly materials) and 2) used items have so much more character- a life of their own.
I love looking for natural items like wool, silk, and leather. Genuine leather items will usually have a label stating it is genuine leather. But beware, because often times (like with this purse) only a portion of the item will be genuine while the rest will be fake. Products can be tricky like that. I picked my leather from a purse because it is usually a softer, thinner leather- perfect for jewelry.
I am an animal lover, so I generally stay away from leather materials- but feel OK with upcycling it. I'd rather see it reused than have it thrown away. If you prefer new material that is not leather, vegetan (not sure where to find this online but is often found in alternative erotica stores- odd, I know!) or ultrasuede (lab made nonwoven fabric- list of stores that stock is here) is a great leather alternative that is just as close to the real thing.
INSTRUCTIONS
Use a seam ripper to free your leather without damaging it. I had to seam rip the pocket of the purse away to reveal a nice sheet of leather, ready to use.
Cut a block approximately 2″ x 3″ or however large you want your earring.
Trim it to a teardrop shape (to look like a feather), then trim the edges. I trimmed my feather ends very finely, which took a little extra time. Do yours however feels right for you.
Tip: Leather is cut into layers and is usually finished on one side. This is the "right" side while the underneath (more suede like) will be the "wrong" side. Most scissors will cut at an angle so try to keep your cutting method consistent or you may end up with odd looking pairs with the wrong side sticking out in odd places.
To make them earrings I poked a hole with a needle at the top of my leather piece and connected it to earring parts with a jumpring. Super duper simple.
Extra: Paint your pieces before cutting it up to really make something unique. Or make different sized feathers and combine them for another look.
ETC
Pinterest boards for inspiration here and here.
Affliliate links to buy earring supplies here: hypoallergenic silver plated earring hooks
and 4mm open jump rings

I'd love to see your creation- feel free to leave a link or pic below.