Are you trying to find enjoyable ways to help your kids learn? We've got just the thing for you!
Our printable bubble numbers will add a dash of excitement to your child's math learning journey. Let's transform number recognition into a fun-filled activity!
But why is learning numbers so important? In the modern world, numbers play a crucial role in many things. From simple arithmetic to telling time, the sooner your child grasps numbers, the better it is for their overall mathematical development.
Our printable bubble numbers are the perfect tool to make this process engaging.
These bubble number outline templates have been designed to make learning a playful experience. From educational arts and crafts to interactive number recognition, these templates add a fun element to teaching your children.
While your child indulges in decorating the numbers, it's a good idea to discuss the significance of each number. For a more tangible learning experience, you can even show them the count on their fingers.
For young learners, it's advised to start with one number a day to allow enough time for the information to sink in.
You can easily print these numbers on paper or card. For craft activities, a thicker paper than regular printer paper might be more suitable.
These templates have multiple applications. Even if your child has already mastered their numbers, they can still be used for various arts and crafts projects.
To help you get started, here are a few ideas on how you can use these printable numbers:
Creative Ways To Use Your Printable Bubble Numbers
There's no limit to the creative ways you can make these numbers come alive.
From coloring and glittering to creating mosaics or cards, these numbers are your canvas for fun and learning.
Coloring Session: Engage your child in a coloring activity using pencils, crayons, or markers to fill in the bubble numbers.
Glitter Decoration: Bring out the glitter and glue to add a magical sparkle to the numbers. This activity is especially fun during the holiday season.
Paper or Sticker Mosaic: Encourage your child to create a beautiful mosaic with colorful pieces of paper or stickers inside the bubble numbers.
Birthday Banner or Card: Use the printed bubble numbers to craft a personalized card or a banner for an upcoming birthday celebration.
Potato Printing: Print the bubble numbers using potato stamps. This is a fun and tactile learning technique adored by many kids.
Cut-out Stencils: Depending on your child's age, allow them to carefully cut out the numbers with safety scissors. These cut-outs can then be used as stencils for more arts and crafts projects.
Home Gallery: Display your child's artwork on the wall. Regular visual exposure to the numbers will aid in their learning. Plus, it's a great conversation starter!
Don't forget to regularly quiz your child on the numbers on the wall. Repeating this activity often is crucial for their learning.
Number Outline Set 1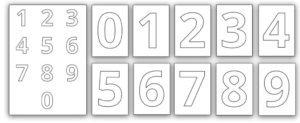 Number Outline Set 2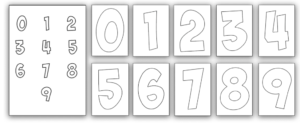 Number Outline Set 3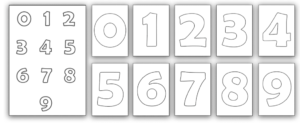 Printable Bubble Numbers Set 4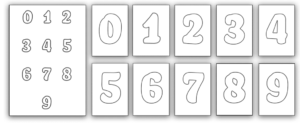 Number Outline Set 5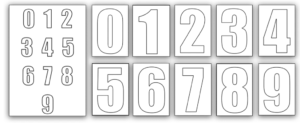 It's time to make learning fun, engaging, and colorful for your kids with our Printable Bubble Numbers!
Remember, it's more than just numbers; it's about nurturing their understanding, encouraging creativity, and turning math lessons into exciting adventures.
Get ready to see their faces light up with understanding and joy.
Happy learning!