Kids love sunflowers – they're like little pieces of summer.
Our Printable Sunflower Outline is perfect for children who love the summer season and the stunning sunflowers it brings. These outlines offer the chance for kids to learn, grow, and have fun with arts and crafts.
So, grab your markers, let your imagination run, and let's make sunflowers bloom!
What's Included in the Sunflower Outline Templates
You'll find three different black and white sunflower outline templates included in the pack:
A sunflower head
A sunflower with a stalk
A stalk with two sunflower blooms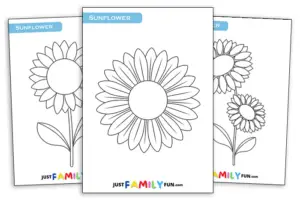 What Can Our Sunflower Outline Templates Be Used For?
You'll find our sunflower outline templates to be versatile and perfect for various creative projects. The templates are downloadable and printable, making them a handy tool for all your arts and crafts endeavors.
Van Gogh Sunflower Crafts
With our sunflower outline templates, you can create a vibrant Van Gogh-inspired sunflower craft. These templates are an ideal resource for you to explore your creativity and make a masterpiece.
All you need to do is print multiple sunflower templates and color them in different shades of yellow, mimicking Van Gogh's unique style.
Also, you can print, color, and cut out a free printable vase outline. Stick the vase on a large piece of paper and arrange the sunflowers to peek out from the top. Remember to position any stems behind the vase for a realistic look.
Dreamcatchers
You can use our sunflower outline templates to create beautiful dreamcatchers.
Start by printing and coloring the sunflower head outlines. You can stick to traditional yellow and brown tones or experiment with your favorite colors.
Next, attach a piece of cotton or string to one side of the sunflower and the other end to a hoop or ring. Arrange multiple sunflowers around the hoop to create a full, blooming sunflower dreamcatcher.
Hang it up in a spot that catches the light and watch your sunflower dreamcatcher bring a sunny charm to any room.
Mother's Day Sunflower Card
Using these outline templates, it's easy to create a unique and heartfelt Mother's Day card featuring vibrant sunflowers. You can color the simple sunflower outlines or enhance them with small pieces of yellow wool, mosaic squares, tissue paper, foil, shiny paper, buttons, or sequins.
It's a perfect opportunity to show your creativity and add a personal touch while crafting a thoughtful gift for your mom, especially if she loves flowers.
Conclusion
You'll love our Sunflower Outline Templates if you're a sunflower fan! They are perfect for many fun art or garden projects. You can color them in or use them for more detailed activities. They're perfect for art, learning, or just having a relaxing time.
Fun fact: Did you know that a sunflower is actually made up of lots of little flowers? The yellow parts and the fuzzy brown middle are all tiny flowers themselves. A sunflower can have up to 2,000 of these small flowers!