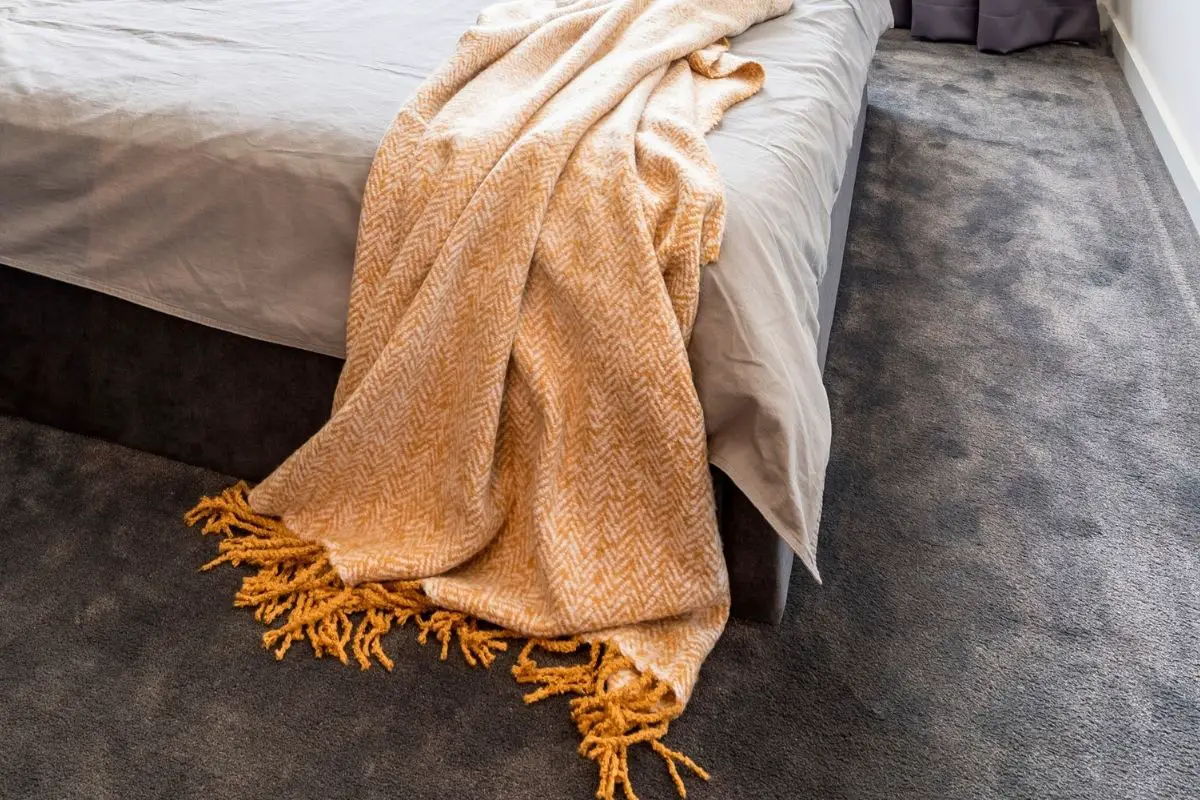 Written by Kitty CollectiveKitty Collective| May 04, 2022 in Worksheet
A tie blanket is a great way to decorate your home or office. They come in various sizes and designs. You can also choose from a variety of colors.
They're very simple blankets, but that doesn't make them any less warm and comfortable.
Tie blankets look great and can cost much less than other blankets on the market that cost over $100 for just a piece of fabric.
Making your own tie blanket is a cost-effective option for decorating your home.
You can make a tie blanket at home with just two pieces of fabric, some scissors, and a ruler! There is no sewing required, making this type of blanket ideal for beginners.
If you want to learn how to make your own tie blanket at home, keep reading!
Making Your Tie Blanket: What You Will Need
As we mentioned before, you need very little to make a basic tie blanket. You can add more or less to enhance your blanket if you would like to, such as ribbon or embroidery.
However, here is what you will need for the basic pattern that we'll be outlining today.
– Two pieces of fabric: These should be the size that you want to make your blanket with a little extra allowance around the sides for the ties. We used 1.25 yards of fabric for our blanket. These can either be the same or different patterns.
– Fabric scissors or a rotary cutter and a cutting board
– Long ruler
Making Your Tie Blanket: The Method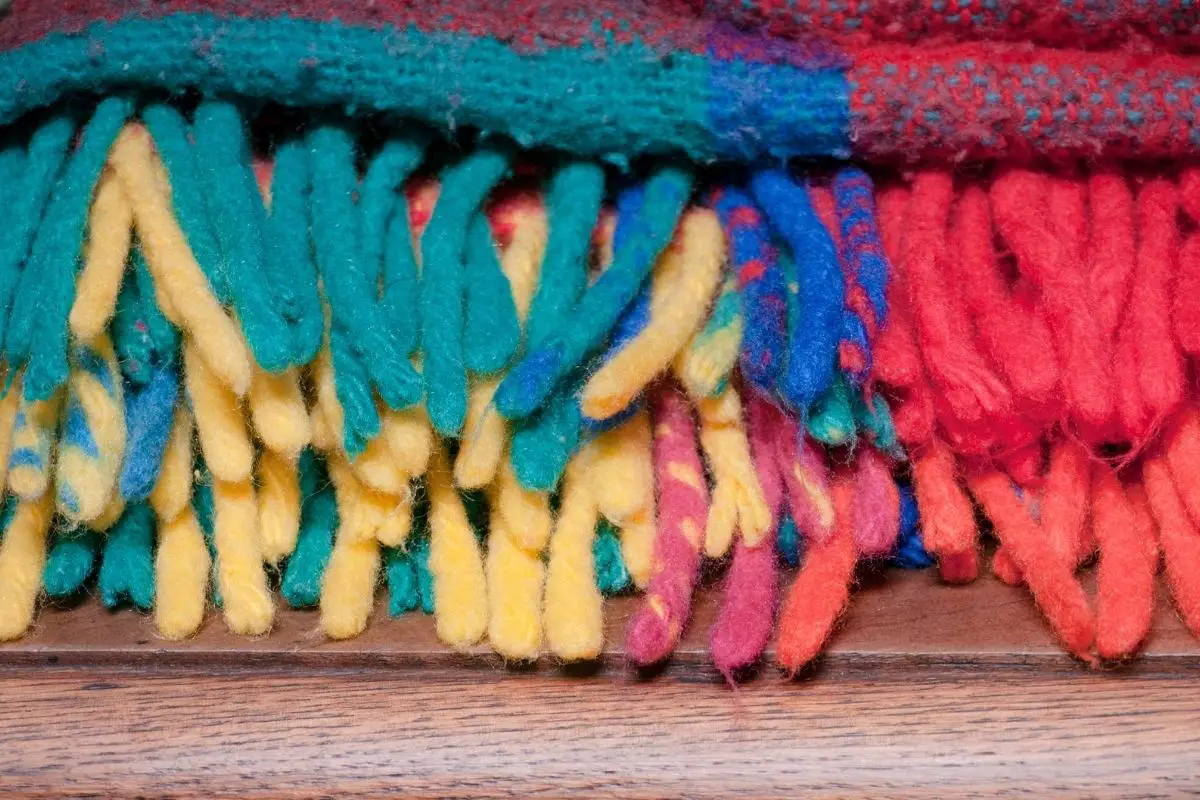 Now let's get right into how you can make your tie blanket. Again, this is a very generalized method which allows you to alter it however you want. If you want to add more steps to customize your blanket and make it your own, go for it!
Step One
You're going to lay your fabric out on a smooth cutting surface, one on top of the other. We used two different types of fabric so that the patterns would be different on either side of the fabric.
However, if you want a more streamlined appearance, you can opt for two pieces of the same fabric.
Step Two
Lay your ruler on top of the two pieces of fabric and use your rotary cutter or scissors to make them the exact same size.
It doesn't matter if the sides are not completely straight as they're going to be tied, but try and make them not too jagged either.
Step Three
Now use your cutter to remove a 4-inch square from each corner. This will prevent any bunching from happening when tying the sides.
To do this, use a pencil to draw four inches up from the bottom of the fabric, then four inches away from the side of the fabric.
Don't forget to cut a square out of all of the corners and from both layers of the fabric.
Step Four
Now it's time to make the fringe on the edges of the fabric. Cut 4-inch slits into the fabric all the way around the blanket, again cutting both layers of the fabric.
Try to cut them with equal spaces between them so that the fringe pieces are all roughly the same width.
Cut both pieces of fabric at the same time to save time and keep both pieces exactly the same all of the way around the blanket.
Step Four
Now take both corresponding slits from either piece of fabric and tie them together with a double knot. This will help the blanket stay together while washing and will make it more durable overall.
Tie all of the slits together until the entire circumference of the blanket is covered in a knot.
Step Five
Your blanket is done! You can now leave it as is or add some personal touches.
Our favorites are buttons to add different texture to the blanket, embroidery to personalize it to the recipient, or ribbon to give the ties an extra edge.
Customize it to however your heart desires – or give the recipient some supplies and allow them to customize it themselves!
Why Make A Tie Blanket?
There's no shortage of reasons why you'd want to make a tie blanket. The first reason is because it's just plain fun! Making something yourself is always rewarding and having a personalized gift like this makes it even better.
The second reason is because it's easy! There's no sewing involved here, making it perfect for beginners who may have never sewn before. Plus, you don't need much equipment to make one!
The third reason is because it's practical. Who wouldn't love a cute little blanket to wrap their neck in during cold weather? Not only does it look adorable, but it also keeps you warm!
Lastly, it's affordable! These blankets aren't expensive to make and you can find everything you'll need at most craft stores. If you want to get creative, you can even make these blankets using scrap fabric instead of buying new material.
Can You Donate Tie Blankets?
Yes! In fact, we encourage it! We've seen many people donate tie blankets to shelters, hospitals, and nursing homes.
They often end up being used by patients, guests, and staff members alike.
Tie blankets are often great things to donate as they will keep people in need warm and they will last for a long time.
As they're cheap and easy to make, they're a supply that most people can make without having to spend too much money or time.
We highly recommend donating a tie blanket if you want to help in some way but don't know how to.
Summary
Make a tie blanket today! It's a simple project that anyone can do and it's a great way to show someone how special they are. You can use scraps of fabric or buy new material if you prefer.
Either way, it's a super cute gift idea that everyone will enjoy receiving. Plus, it will be an affordable and fun craft for you to enjoy!