Playing secret Santa gives off tons of fun during this holiday season—not to mention, the spice and thrill it adds as well. You can also play secret Santa anywhere, be it in the office, at school, or even at home on Christmas Eve. And whether you intend to reveal your name or not, make sure not to miss our festive secret Santa tag designs that we've gathered just for you. There are plenty of designs to choose from, so go ahead and dive in!
11 Printable Secret Santa Gift Tags
These cute, adorable, and colorful tags are already tuned in for the festive season. And they're sure to dish out loads of fun, thrill, and excitement regardless of how you use them. There are plenty of designs to be had in our gallery below, so choosing the perfect one could hardly go amiss!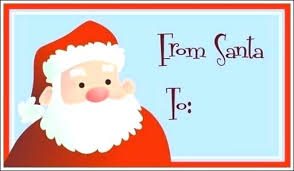 Source: CaseyRoberts.co
With the mood set on these pintables all that's left to do is to leave a warm and personal touch on it. And wherever you put it, whether it's on your gifts, greeting cards, or Christmas notes, these Christmas labels will surely bring out the smiles of those that receive them. And as a tip, addressing the person with their first name will add warmth to wherever you put these tags on. Grab your copy of these printables today!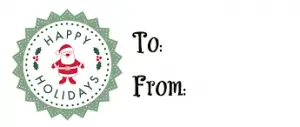 Source: MamaCheaps.com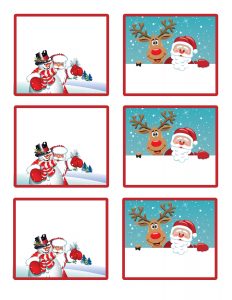 Source: Pinterest.com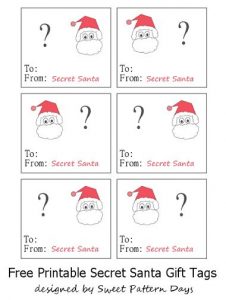 Source: Canbum.net
There's romance in the air with these little pair of red Christmas labels. And why not? Christmas is also the time to give love, right? These labels perfectly match with the bouquet of flowers and chocolates for your special someone. Or better yet, why not to your office crush if you happen to be their secret Santa? Go ahead and download these tags now!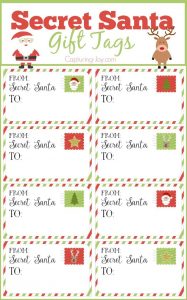 Source: Capturing-Joy.com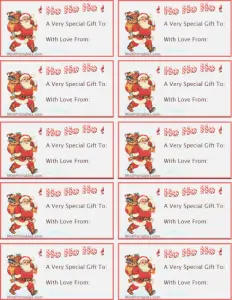 Source: MintPrintables.com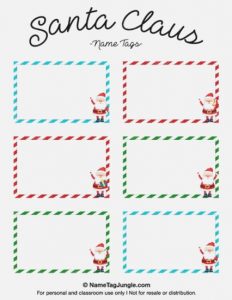 Source: NameTagJungle.com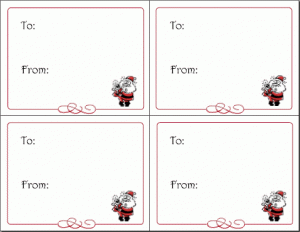 Source: Halloween-Fun.net
These cute, little tags will make great additions to your presents and greetings if you wish to take the minimalist approach. And with Frosty hanging around on these little tags, making the yuletide season felt in magnitudes could hardly go amiss. There's plenty of room for a variety of uses in these cute, little tags, and they're also perfect as markers for your Christmas countdown calendar. Download your copy of these tags now!
Source: Coolest-Holiday-Parties.com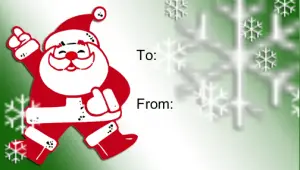 Source: FreePrintableGiftTags.net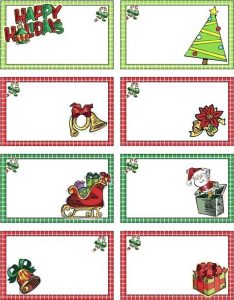 Source: Odessaua.info
With Santa and Rudolph tagging along to bring in the holiday cheers this season, these adorable Christmas labels will surely light up the faces of every kid that sees them. You can either choose to put them as stickers on small presents or hang them as tags on Christmas sweets. Or, why not use them to write some names or numbers on? a small raffle would surely spice up your Christmas gatherings a little bit. Grab yours now!
3 Secret Santa Gift Tags with Sayings
Rhyming verses and riddles on these tags add more spice and suspense when playing secret Santa to anyone. And with mystery written all over it, these tags will surely leave everyone guessing. Witness the surprise and excitement on your lucky recipient's face whenever they read it.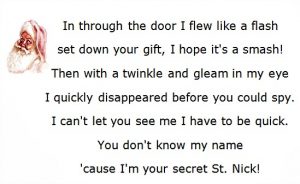 Source: Christmas-Crafts-Nook.com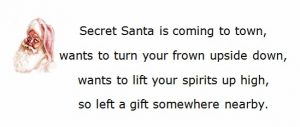 Source: Traffic-Club.info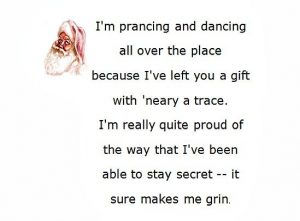 Source: Pinterest.com
Simple and straightforward, these blank labels will perfectly match the personalities of its recipients. You can easily mix and match these tags with your gift ideas and let the spirit of Christmas be felt beyond words on paper. Or, you can cut them into small name tag stickers for Christmas treats and sweets too! Get these blank Christmas labels now!
When the festive season is around the corner and planning for games become a busy affair, you can always count on such tags to make the game easier.