Giveaway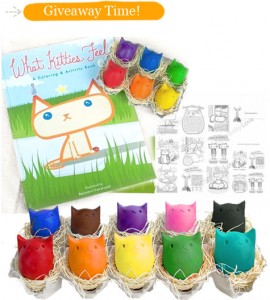 JOIN OUR BLITZ GIVEAWAY FOR OUR NEW SOY & BEESWAX KITTY EGG CRAYON + A COLORING BOOK! VALUED AT $38. ENDS 12/4
10 REASONS TO SUPPORT KITTY EGG CRAYON
10. They make an amazing gift. Imagine opening a package to see little kitty eggs sitting in a nested egg carton staring up at you. Who wouldn't be delighted!
9. Be the first. These will be our first official batch of eco Kitty Egg Crayons. Not only will you have one of the first sets ever made, but you'll have the knowledge that you actually helped manifest these cuties into reality.
8. Long lasting. Each kitty is the equivalent of 8 standard sticks of crayon without paper wrappers or broken stubs to worry about. Mothers, say goodbye to the unsightly mess of broken stubby crayons.
7. Durable. Their chubby bodies break their fall. We don't recommend using them in place of your golf ball, but they do handle hard pressure and table falls much better than other crayons on the market.
6. Rich colors. Have you used eco crayons that were dull or had a waxy texture? Kitty Eggs don't do that. They have vibrantly rich colors with a smooth texture- you'll be amazed.
5. It helps tots promote grasping skills. Their bodies fit perfect in the palms of small hands, helping to promote the use of tripod muscles- critical for pencil and pen holding.
4. It sparks imaginative play. It doesn't matter if you're "too young" or "too old" to use crayons, everyone will be compelled to touch and play with these chubby kitties. We guarantee it'll instantly brighten your day.
3. Fantastic tool for explorative art. There are no paper wrappers or pointed edges to guide a "right" or "wrong" way to use Kitty Egg Crayons. Use all sides of the kitty to make marks- from thin ear marks to broad butt strokes… there's so much to discover!
2. It is better for our Earth. Cheap crayons use cheap materials that can draw on finite resources- like paraffin wax, an oil by-product. We will be using renewable ingredients such as beeswax and soy that will be natural or organic.
1. It helps support our local economy. We're lucky we found all that we needed right here in the Pacific Northwest. From production to packaging, the Kitty Egg Crayons will be fully home grown. That means your money goes directly into pockets of families and artisans right here in America!
TO ENTER: HELP US RAISE FUNDS!
Help share and recommend pre-orders for our new eco Kitty Egg Crayon this holiday season. Post the link to your blog, twitter, face… etc.
https://www.kickstarter.com/projects/kittybabylove/kitty-egg-crayons-made-for-small-hands
(suggestion: use the links immediately below the video)
Please make it more than a generic link- include a short blurb with one of the 10 points listed above or your own words of approval.
Leave a comment below linking to your post. If you post to a social network, be sure that you have the post set to public so we can see it!
ADDITIONAL ENTRIES:
1 additional entry for each different site you post to. Max of 5 sites. Reposting on the same account doesn't count- please don't spam your friends! Again, leave a link for each site you post to.
5 additional entries for each dollar you pledge on our campaign ($1 minimum). $1 = 5 entries. We start offering rewards at $5- a mini PDF coloring book. That means by pledging $5, you'll not only receive 25 additional entries for this giveaway, but you'll also receive a mini PDF coloring book!
If you pledge $35 or more, we will automatically upgrade your pledge reward to the next level as a winning prize. So if you pledged $35 and won, you'll actually receive the $50 reward. Likewise, a backer who pledged at $50 will receive the $100 reward if they win.
1 additional entry for a local gift shop recommendation. Max of 1 recommendation (make it your favorite shop!). Do you have a really cute gift shop in your neighborhood that you could see our kitties in? Let us know so we can get in touch with them- please only recommend locally owned gift/baby/eco shops. No chain stores.
IN A NUTSHELL…
Last entry will be accepted 9pm PST 12/4
1 winner will be chosen at random on December 5th, 2011
No purchase necessary
International friends welcomed to enter
Winner will be announced on our blog and notified via email on December 5th
Seperate comments not needed for each entry