Unicorns are a myth that has been going strong since antiquity. It is a favorite for children and adults alike. It is definitely a good idea to theme a birthday party on this mythical creature that looks like a horse and has a single horn protruding from its forehead. With that in mind, we have put together some party invitations based on a unicorn theme for you to print and send out!
Unicorn Birthday Party Invitations
This first one is certainly a colorful birthday party invitation that you can print and send to your friends and family.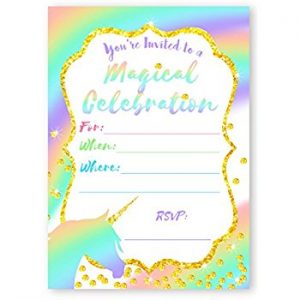 The next one up is a splash of colors and is sure to uplift the mood of anyone who lays their eyes upon it!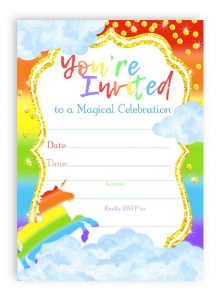 Here is one with one of the most beautiful and elegant depictions of a unicorn possible.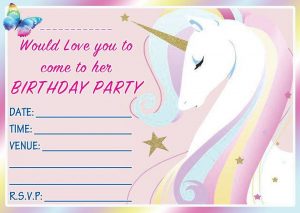 Now, this one is best used for the birthday party of a child! It just works, with the cutest unicorn possible.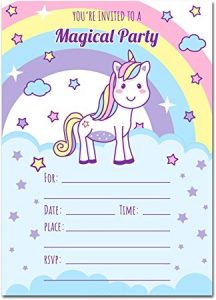 This one has a minimalistic design which you can choose to fill as per your heart's desire!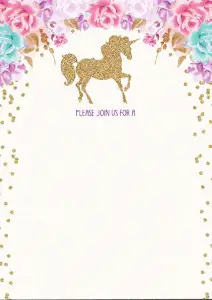 This next one may not be usable for printing and sending out, but you can get an idea about what to write on the ones that you do send to your friends and family!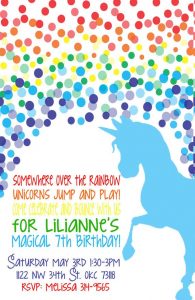 This one is tailor made for use as a birthday party invitation!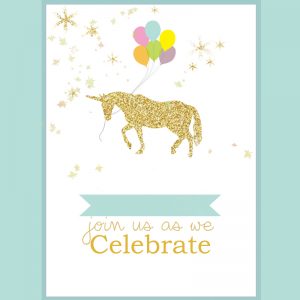 You've got the best for last! It doesn't get much better than a unicorn jumping towards a rainbow, how beautiful is that!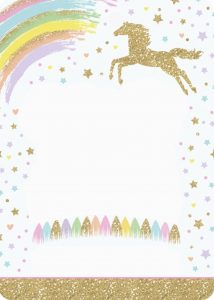 There you have it! 8 beautiful unicorn themed birthday party invitations for you to use! We wish u the best for the party, and wish they go off without a hitch…in case you are having any issues with planning the party, a birthday party checklist is sure to help!