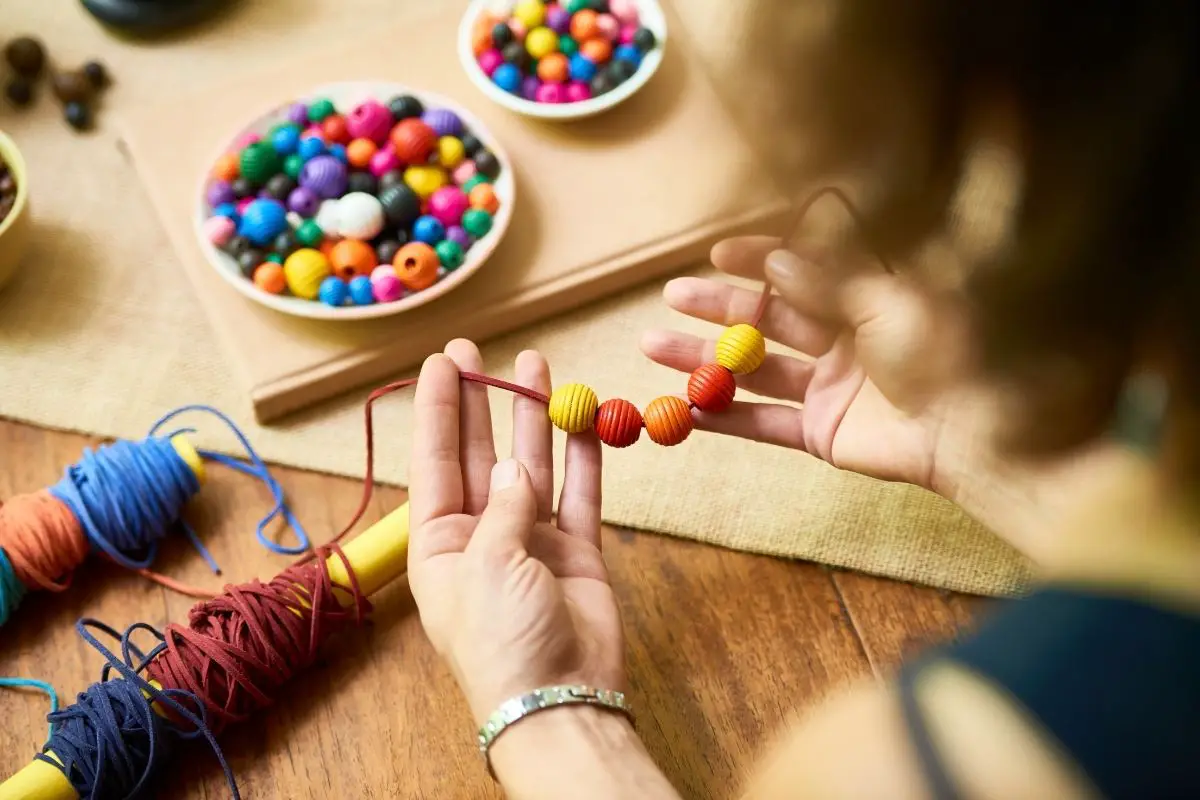 Written by Kitty Baby LoveKitty Baby Love| May 27, 2022 in Printables
If you are interested in fun activities to do with your kids, then you should consider making your own beaded bracelets.
Once your children have finished their games and used all the paint, they will start searching for other forms of entertainment, which can lead to television and mobile devices.
So if you want to keep your children entertained, you can show them how to make beaded bracelets from the comfort of their home.
While these bracelets are fun to make, they can also be used to test your children's creative skills, as well as their hand-eye coordination.
In this article, we will teach you how to make beaded bracelets for your children, while also outlining the tools and materials you will need…
How To Make Beaded Bracelets
While making beaded bracelets can be a simple process, using the best tools and materials can make it even easier.
In the section below, we have compiled a list of the tools and materials you will need to make the beaded bracelets…
What You Will Need
Elastic cord
Beads (plastic or glass)
Beading tray
Bead stopper
Beading needle
Beading wire (optional)
Glue
Bead covers (optional)
What Beads Should You Use?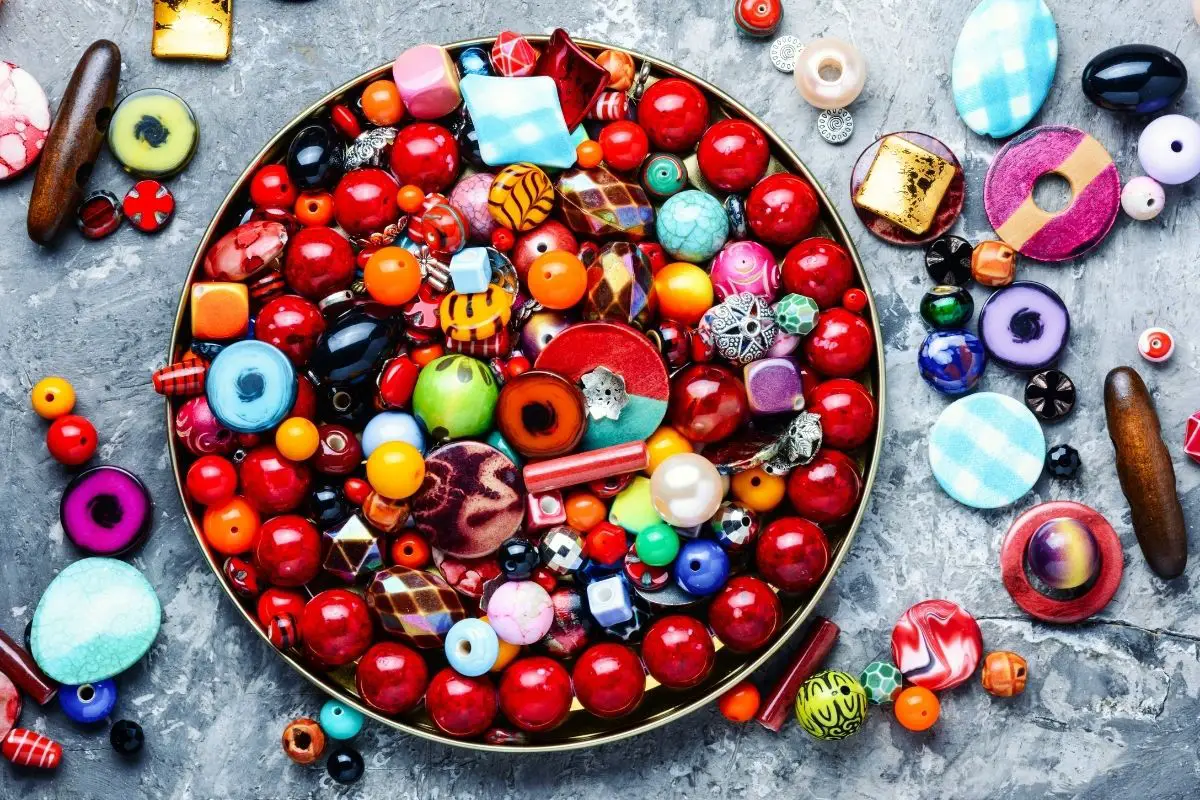 When it comes to making beaded bracelets, it is possible to use any beads you have in the house.
For example, you can use small beads or large beads. It is even possible to use letter beads if you want to spell out your children's names.
In most cases, you will want to use beads that are light and durable, they should also come with rounded edges to ensure that the elastic does not fray.
Down below, we have outlined some of the best beads available, which can be used to make durable bracelets…
Plastic Beads
These beads are ideal for most creative activities, as they are cheap, colorful, and fun. In most cases, plastic beads will feature larger holes, which also makes them easier for children to thread.
Glass Beads
Like plastic beads, glass beads come in a variety of shapes and sizes, which means you can make a host of different bracelets.
They are also easy to thread and look beautiful when bunched together. However, we do not advise using them if you have small children.
Note: For the best results, we recommend choosing the beads before selecting the cord, as this will make it easier to determine the kind of cord you should use.
Once you have gathered the correct tools and materials, you can start making the beaded bracelets using the instructions below:
Step One: Prepare The Materials
Collect the materials you need and lay them out on a flat surface. Once you have done this, take a tape measure and measure your children's wrists.
During this process, you will need to make a note of the measurements, as these will be important when making the beaded bracelets.
It is also important to note that certain beads can make the bracelet feel tight. So if you are interested in using large beads, then you will need to add some extra length to the bracelet as compensation.
Step Two: Cut The Cord
Take the elastic cord and cut a length that is double the size of your child's wrist. You will also need to add another 12-inches to achieve the best results.
During this process, it is better to cut the cord too long and cut away the excess thread. You should also use a double strand cord, as this will make the finished bracelet stronger and more flexible.
Step Three: Secure The Cord
Once the cord has been cut, it will need to be stretched to reduce future wear and tear. This can be accomplished by holding 4-inches of the cord between your fingers and stretching it outwards.
You will need to repeat this process until the length of the cord has been stretched and tested.
Following this, you will need to fold the elastic cord in half, which means you will be working with a double-length. Once you have completed this, the end of the cord will need to be secured with a bead stopper.
Step Four: Thread The Beads
Now it's time to start making the actual bracelet. To do this, you will need to arrange the beads in the order you want to thread them. This can be done by placing the beads in a beading tray, which will make them easier to access.
If the holes in the beads are large enough, your children should be able to thread them by hand.
However, if the holes prove too small, then you may need to use a needle to guide them onto the thread.
During this process, you will need to be mindful of what your children are doing, as even beading needles are known to be sharp.
If you are not comfortable with your children using sharp objects, then you will need to bead the bracelets on your own.
Step Five: Tie The Knot
Once the cord has been beaded, you will need to tie the two ends together. To do this, we recommend using a surgeon's knot, as this will result in a more secure bracelet.
This involves taking the two ends of the cord and knotting them together before pulling on the cord to reduce the slack.
Once you have done this, you will need to make the second half of the knot and hold the tension until it is secure.
When the knot has been made, apply a small amount of glue to keep it in place and remove any excess cord that is still visible.
Once you have done this, you should be left with a bracelet that is free from noticeable knots and elastic.
Final Thoughts
Making beaded bracelets is a great way to spend time with your children, as it tests their creative skills and is fun to do.
While there is no guarantee that the bracelets will last a lifetime, they should remain intact if you use durable elastic and the best beads that you can find.