 Written by Marjory TaylorMarjory Taylor| January 29, 2021 in Worksheet
Springtime is a beautiful sight for kids to see. As the landscape wakes slowly from its long winter slumber, everything outside comes back to life. The magic that springtime brings inspired many songs to be sung and poems to be written. So along with word searches and puzzles, why not add in some rhymes to celebrate the season with your kids?
Feel free to pick from our selection of the best spring poem printables, and have a memorable and fun-filled me-time with your kids for the rest of the season!
The Meaning of Spring
Spring is the first phase of the seasonal cycle, which lasts from February up until May. It is at these months that the landscape begins to warm up and brighten, undoing the cold and icy surrounding created by winter. A phenomenon caused by the vernal equinox, where the Earth's northern hemisphere leans closer to the sun.
The season means a lot of things for everything and everyone on this planet. It means the start of the breeding season for plants and animals, where they need to find their mates and reproduce. For humans, spring means a fresh new start with promises of new hope and life, a new beginning celebrated in songs and poems for many centuries. 
Free and Printable Best Spring Poems for Kids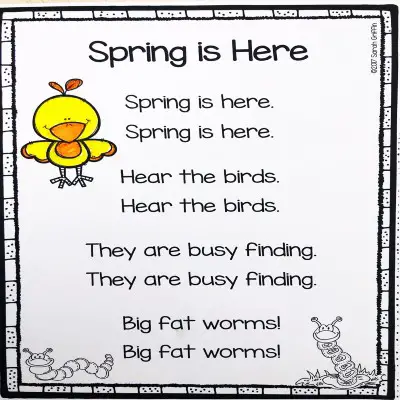 Free Download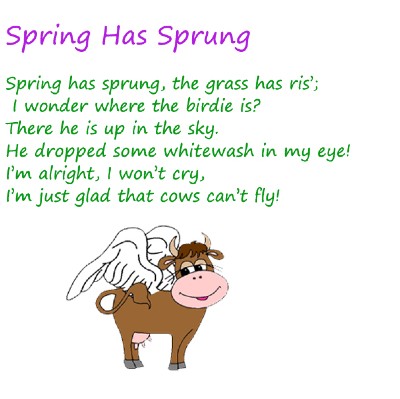 Free Download
News of the coming of spring can be said in many ways. You can either say it with enthusiasm or in ways that make you laugh from ear to ear. So whichever rhyme your kids may fancy, there's always a poem to welcome the springtime season this year. Now go ahead, and pick the spring poem printable that best suits you.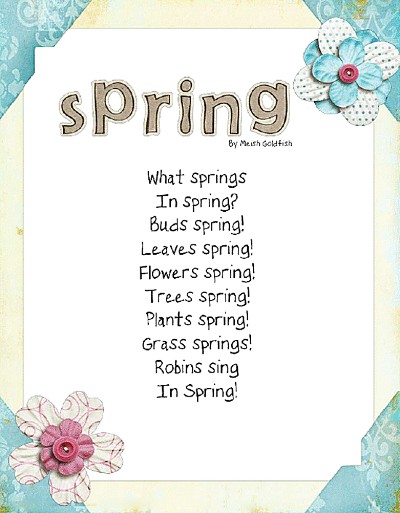 Free Download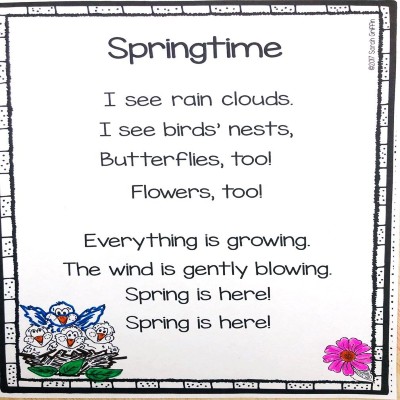 Free Download
There's a lot of exciting and awe-inspiring things for kids to see in spring. Just as the landscape changes after the long and cold winter months, the world slowly lights up into a festive glow. And with poems that captures the same contagious mood that spring brings, bring your little ones up to a joyous mood for the rest of the season.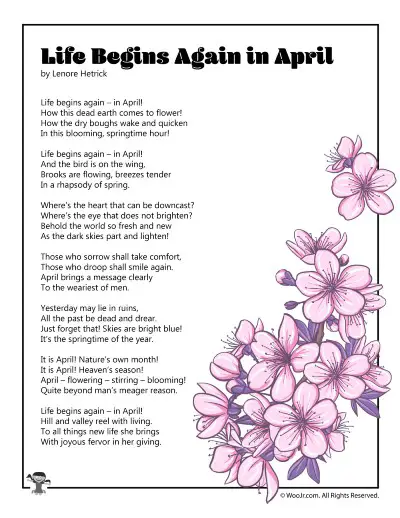 Free Download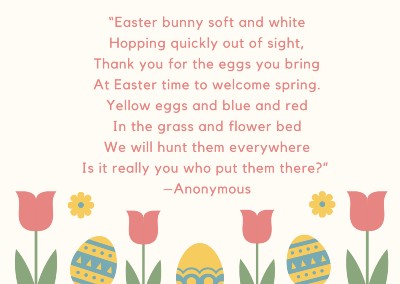 Free Download
Springtime starts around March or April. The time where everything starts over again. The magic that spring does to humans and nature had inspired many holidays to be celebrated. So go ahead and choose among these kids' spring poems to celebrate the season with, whether it's about the Easter bunny or just paying tribute to April herself.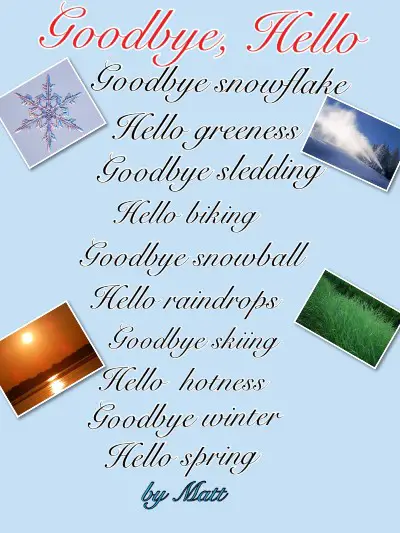 Free Download
Springtime is when we say our goodbyes to winter. And while the season covers the land in cold and snow, who would forget the joy and warmth of the holiday greetings and gifts we've shared on Christmas eve? Relive the fun memories you had in winter in a poem printable filled with gratitude and appreciation, and say hello to the springtime season!
How to Make the Most Out of These Kids' Spring Poems
Celebrating the springtime season with your kids is a very fun and rewarding experience. Along with games and activities, the season is the perfect time for kids to try out new things as well. Celebrating springtime with poetry does many wonders for your kids. For one, it develops their vocabulary and language skills. And, allow them to discover the joy and beauty of playing with words as well.
While these poem printable already bring fun and laughter to kids, there are many things that we can do to make it better. So here are some tips on making the most out of these spring poem printables and enjoy a better springtime season with your kids.
Rewrite a Poem in Your Own Words
Rewriting a poem is not just fun but also challenging. As you frantically search for the right words, you can't avoid bursting into laughter while finding yourself trying to fit in some odd words together. However, nothing beats the sense of accomplishment of coming up with a perfect rendition of a great poem.
To do so, just choose a poem from our selection of printables that you find easy to rewrite. You don't have to make it grand or elaborate. It just needs to be in familiar words to you and your kids.
DIY Greeting Cards for Springtime Holidays
Some many holidays and festivities are celebrated during the springtime season. Valentines Day and Easter, are some of the holidays that kids and grown-ups alike enjoy during this season. Holidays aren't complete without greeting cards. So whether you want a poetic valentine greeting or remind everyone of the Easter egg hunt, an inspiring and inviting poem will surely suit your DIY greeting cards.
Singing the Rhyme to Your Favorite Tune
Nothing gets more fun and amusing than singing a poem in tune with your favorite song. Imagine the laughter that it brings as you slip and try to blend the words with the melody. All you need to do is pick the tune that you find suitable for the poem that you chose. You can sing them to the tune of your preschoolers' favorite nursery rhyme or to the opening theme of their favorite cartoons.
Spring Poem Printables Frequently Asked Questions
Can We Print These Printables in Any Sizes?
Sure you can! These printables are in PDF format, and can be configured to print small and large sizes. Moreover, you can also print these poem printables on any material and on any surface.
What are the Fun Ideas that We Can Use These Printables for?
There are many ideas that you can use these printables for. You can use them just to welcome the springtime season as it is or use them as valentine gift tags; the possibilities are endless. You can also make DIY greeting cards on of them, or print them on mugs and shirts as well.
Can These Printables be Used as Inspiration to Write Our Own Poems?
Yes, absolutely! The springtime season is the best time to try out new things, such as poetry. And if you're looking for something to inspire you, these printables will surely help. These poem printables have short and easy rhymes for you to study closely.