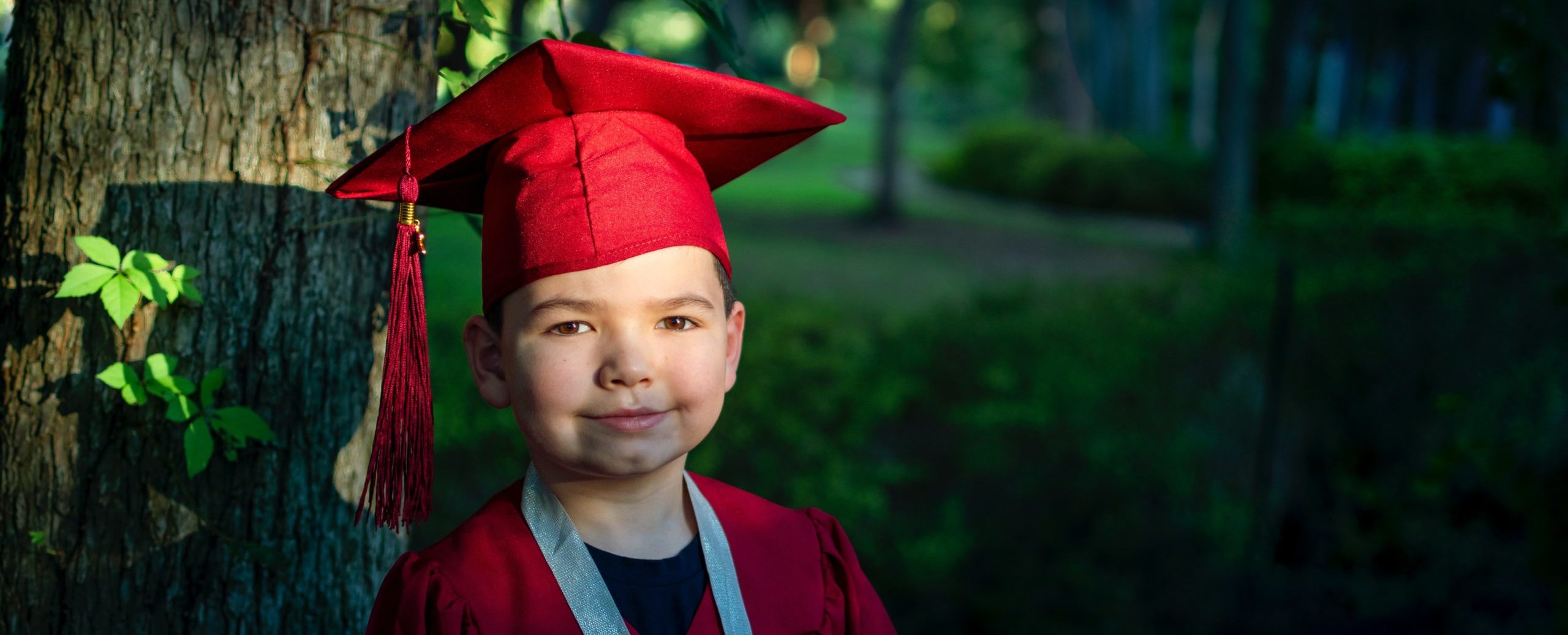 Written by Marjory TaylorMarjory Taylor| February 16, 2021 in Worksheet
Preschool—called primary school or kindergarten in some places—is where kids learn their ABCs, number cards, colors, and shapes. In the classroom, preschoolers get to experience a different environment.
After the end of the school year, children hear a round of congratulations as they graduate from the class. Apart from singing and dancing, preschoolers can say their goodbyes through preschool poetry pieces. So, here are some of the best farewell or graduation poems for young kids.
The Essence of Graduation Rites
Receiving an honor roll certificate is a great achievement for anyone. For kids, accepting cards and awards from their favorite teachers bring smiles to their faces. According to Edweek.org, ensuring that kids have access to "high-quality early-childhood education" is one of the key factors for student success. In a way, education during the early childhood years can be the foundation or building blocks for the future of a child.
Moreover, research conducted by the American Educational Research Association (AERA) in 2017 shows that the impacts of early childhood education can be seen in the percentage points of students graduating from high school (an increase of 11.4 points) and being held back (decrease of 8.3 points). Significantly, starting early has positive influences on the children.
Now, let's look at some of the best pre-school graduation poems you can use during daycare ceremonies.
Best Pre-school Graduation Poems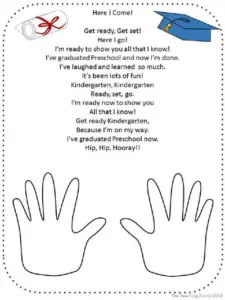 Here I Come Poem
source: teacherspayteachers.com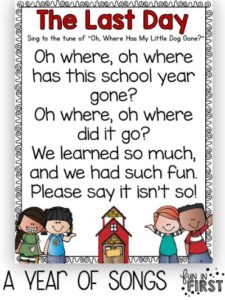 The Last Day
source: funinfirst.com
Besides learning the alphabet and numbers, schools also teach kids the value of loving their families and friends. Importantly, teachers encourage kids to remember special occasions like Mother's Day or Father's Day. In most cases, kids bring home cards with handprints, colored hearts, and painted flowers. Before their graduation day, children also create letters for their dear friends.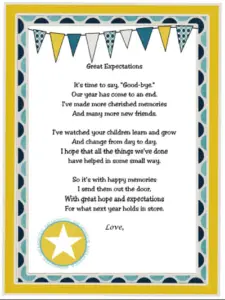 Great Expectations
source: classroomcompanion.blogspot.com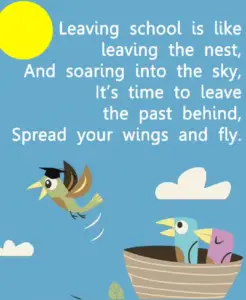 Leaving School
source: learn2soar.co.uk
Leaving preschool can be emotional, especially when kids have fulfilling friendships and kind teachers. With that, parents and lecturers have to explain the purpose of moving up to another grade and graduating from daycare. Although it's a simple process, kids remember the excitement of receiving their awards and certificates.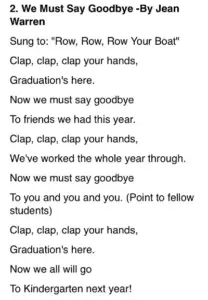 We Must Say Goodbye
source: pinterest.com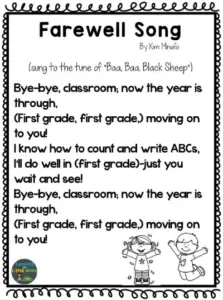 Farewell Song
source: lessons4littleones.com
Schools are temporary homes where students watch Disney movies, learn science facts, and play word search puzzles. It's a great place for discovery and growth. So, when it's time to leave the classroom, children will feel sad about it. Through this graduation poem, kids will be excited about their next adventure in a new grade level.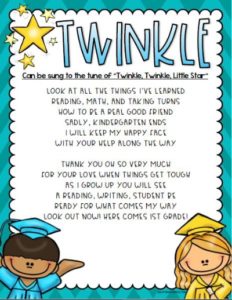 Twinkle
source: teacherspayteachers.com
Summarize all the things the children learned while at school with this cute and printable poem for kids. The icons are attractive to toddlers, and the contents are easy to understand. Overall, it looks at the journey of the child towards graduating from kindergarten.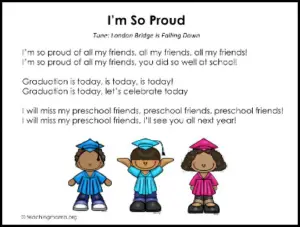 I'm So Proud
source: teachingmama.org
Finishing the school year—whether with honors or not—is a wonderful feat for many people. For the kids, it's a mixture of feelings. In a simple way, the kindergarten poetry line "I'm so proud" recognizes the efforts of the kid. Hence, this graduation poem will make the students happy and satisfied.
How to Make Kids Understand the Value of Studying
Studying is a complicated chore. At times, people love the idea of flipping through reading worksheet pages. In other situations, individuals resent the thought of opening a book. Nevertheless, studying is an essential part of everyone's life. Without knowledge, people will lose opportunities and chase broken promises.
Having a clear understanding of the world helps individuals navigate through life seamlessly. While it takes time, parents and instructors have to encourage kids to value studying just like how they value their Santa letters. So, how can you motivate your child to love reading or studying? Here are some ways to make your persuasion easier.
Be an Example or Role Model
Children soak in the information presented to them in a matter of minutes. Whether it's a difficult matter or not, kids will learn from the adults around them. Hence, older folks have to be an example or a role model for the children. You can do this by showing interest in studying and learning new things. For example, you can study the solar system with your kids on a weekend rather than playing video games all day. You can start the habit, and then, your children can follow.
Set Schedules At Home
Balance keeps everything in harmony. You have to set time for playing video games, studying, and other activities for your kids. With that, having weekly schedules or daily planners is important. You can decide on the schedule every Sunday and implement the plan in that week. Sometimes, you and your family may not follow the schedule. However, you need to go back to the plan. It's a form of discipline, which is essential for growing children.
Be Curious and Ask Questions
Let your curiosity run free and ask questions. Or rather, ask your kids about their questions. Questions are necessary when it comes to learning. Without the inquisitive part of the learning process, the kids will not fully understand everything. Therefore, questions are essential. Today, you can find answers on almanacs, dictionaries, and a quick Google search. So, let your kids be inquisitive.
Frequently Asked Questions about Graduation Poems
How long should the graduation poem need to be?
To avoid confusing and draining the kids, graduation poems should be no more than eight sentences or ten phrases. For the most part, the lines should be repeating and easy to remember. Choose poems with simple language like the templates above.
Can I print the samples without colors?
Yes, you can print the pre-school graduation poems samples without colors, as long as the words are clear. But, if you want to have the best option for the children, then printing with colors is a perfect choice.
Can I have three poem recitals during the graduation ceremonies?
Graduation ceremonies have different programs. Some have dancing and singing presentations. So, having poem recitals—no matter how many pieces of poetry—is fine. However, you have to make sure that each recital or presentation is still time-conscious.