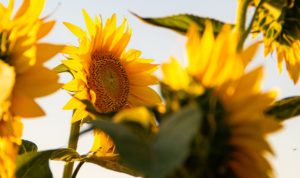 Written by Kitty Baby LoveKitty Baby Love| March 25, 2021 in Printables
In particular, kids love seeing flowers, zoo animals, butterflies, and other cute things that make them happy. For example, roses and sunflowers bring joy to the little ones, especially when they're fond of arts and crafts. Truly, having these cute materials make the notebooks more fun to look at.
Often, parents search for how to make paper sunflowers tutorials online to find possible techniques when creating sunflower silhouettes. Luckily, we've gathered DIY sunflower crafts and various sunflower templates for you. Instead of spending so much time drafting one, you can choose one from here for your next art project.
The Wonders of the Flowers
Besides roses during Valentine's Day, many people also present sunflower bouquets to their loved ones—parents, friends, co-workers, etc. Although often regarded as ornamental plants, sunflowers also have other benefits. According to Britannica, a sunflower plant produces oil that can be used as lubricants for soap and paints. Moreover, sunflower seeds are edible.
While the uses of sunflowers vary, it remains to be one of the best ornamental home decorations. And as kids learn many things in school, they can also become more creative at home with these sunflower clipart samples and paper templates. Be more creative with these printable templates below.
Paper Sunflower Templates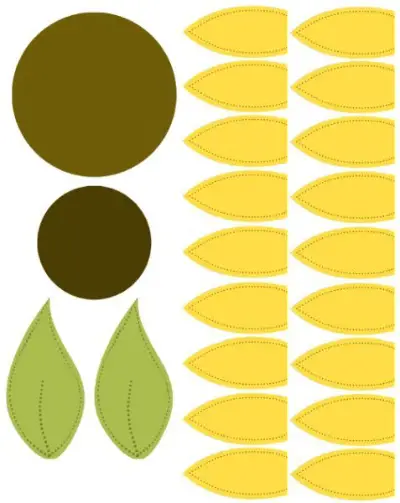 Paper Sunflower
source: pinterest.com
---
Build your own paper sunflower decoration with this printable design. With this template, you can easily cut the petals, disk florets, and leaves to form the plant. This handy printable sunflower outline is a fun exercise with kids.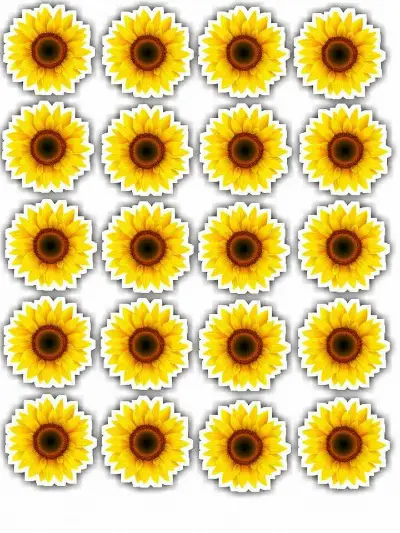 Sunflower Sticker Pattern
source: pinterest.com
---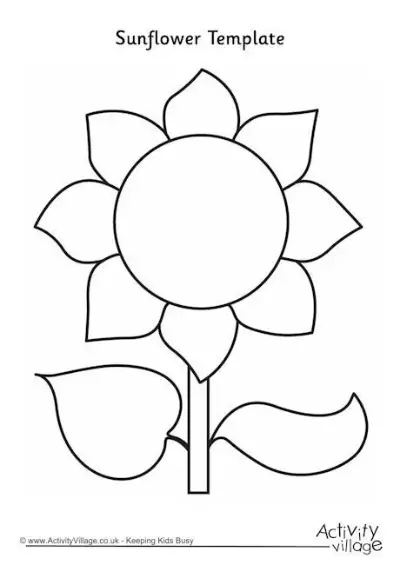 Coloring Sunflower Template
source: activityvillage.co.uk
---
Make school activities more exciting with this sunflower template to color. Although simple, the template encourages children to be creative. Additionally, it's easy to color the plant.

Sunflower Wallpaper
source: etsy.com
---

Big Sunflower Design
source: redbubble.com
---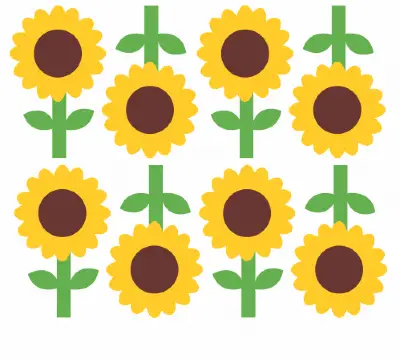 Cartoon Sunflowers
source: customizando.net
---
Apart from realistic sunflower patterns, cartoon-themed templates are also fun to use. Sometimes, this template works best with jigsaw puzzles. The combination of the two exercises will entertain kids for many hours.

Clear Paper Sunflower
source: rawpixel.com
---
While many people love ordinary designs, some love pop-ups for their decorations. This pop-up sunflower design will work best for Mother's Day celebrations, and many kids love to use this on their cards.

Dark Sunflower Wallpaper
source: amazon.com
---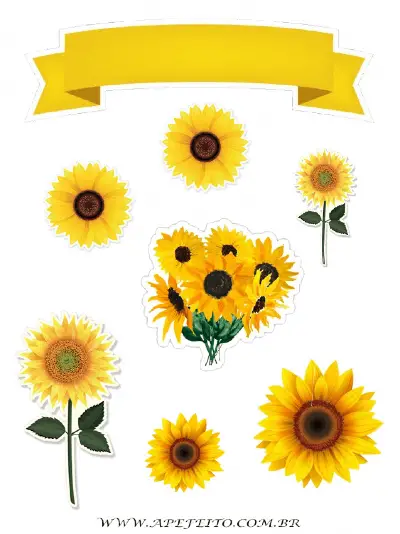 Sunflower Bundles
source: apefeito.com.br
---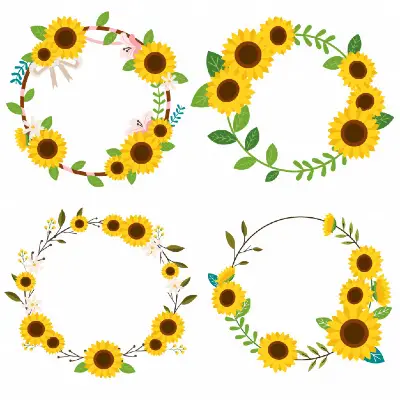 Sunflower Wreaths
source: br.freepik.com
---
Apart from choosing birthday borders, you should also get sunflower wreaths for the occasion. Having beautiful wreaths as the design will make party decorations more cheerful. Plus, the layout will look fresh and new.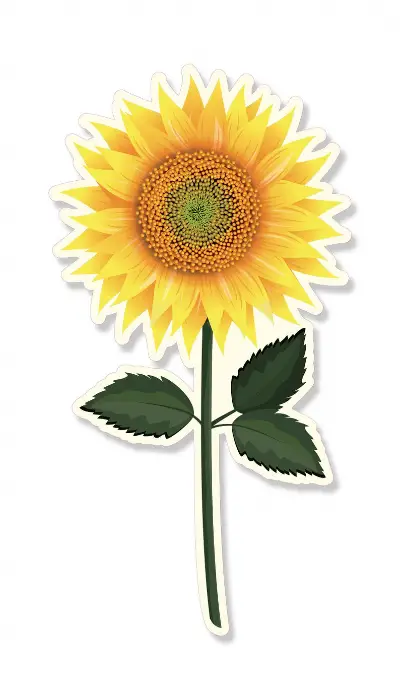 Just a Sunflower
source: etsy.com
---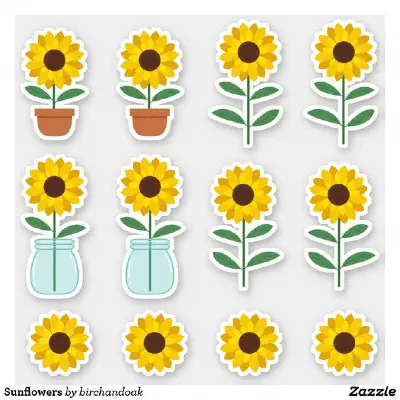 Dozen Sunflowers
source: zazzle.com
---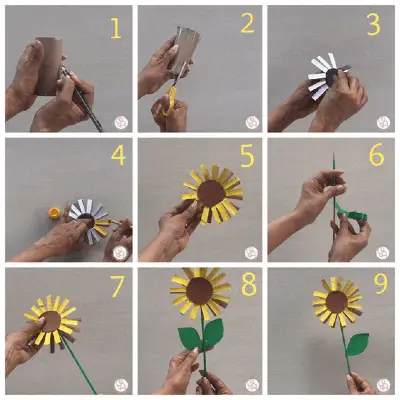 Making a Sunflower
source: aartedeensinareaprender.com
---
When you want to make sunflowers from scratch, then this tutorial picture is what you need. Before creating the sunflower, make sure to gather all materials and look at the sample picture. You can also pair this with birthday crowns.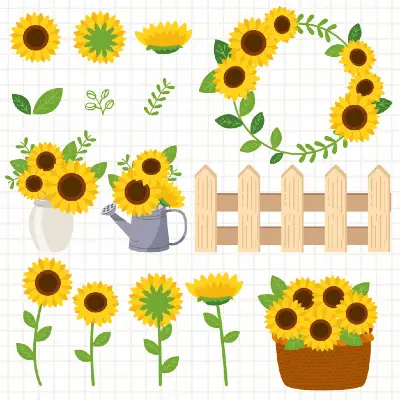 Sunflower Collection
source: freepik.com
---
The templates provided beforehand were different samples in individual sets. You may opt to download them individually or choose the sunflower bundle for your papercraft displayed above.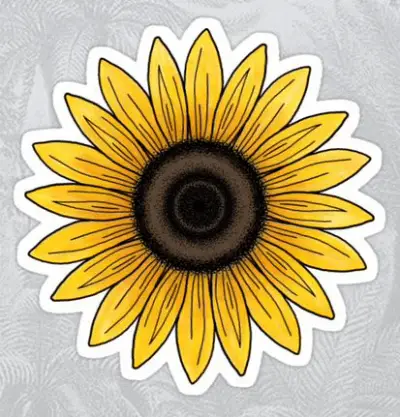 Detailed Sunflower Design
source: redbubble.com
---
How to Properly Care for Sunflowers
Indeed, handmade cheery sunflower designs are easy to carry around and use for art crafts. But, what about real sunflowers? Is taking care of these plants easy? With folks asking about sunflower care, we've come up with a condensed guide for you.
So, read through the guidelines and make your planting experience worthwhile.
The Right Time for Planting
First, you can't plant sunflowers whenever you want to. Like other flowers, it follows a specific season and time. Rather than randomly planting, you should plant the seeds during summer or the best spring days (mid-March or April to July). The soil should also be loamy or sandy.
Besides this, the distance of each plant has to be six (6) inches apart. As heavy feeders, the fertilizer should be enough and not over the top. Importantly, don't put in fertilizer every day.
Getting that Direct Sunlight
Second, sunflowers require six to eight hours of sunlight every day. Aside from the direct sun, it should be located in an area where it is protected from strong winds. During the growing period, you need to attach bamboo sticks to keep the plant upright.
Then, remember to avoid planting the seeds when the weather is too harsh—storms, hurricanes, and snow. You can use a personal goal-setting worksheet to track everything.
Protection from Pests, Birds, and Small Animals
Of course, plants are the favorite meals of small animals. So, you have to place protection over your growing sunflowers. For instance, you have to watch out for snails and birds that want the seeds. Additionally, small animals like squirrels want the seeds also. Not just that, large animals like deers also love eating the plant.
Getting the Flowers
When the blooming starts, you have to prepare for harvesting these flowers. Here's a tip: Instead of harvesting during the afternoon, do that task early in the morning. By doing this, you prevent wilting the flower right away.
Cut the sunflower with enough stem still attached, and gently hold the flowers. Lastly, use tall containers as vases to support the sunflower's large head. And, you have to change the water regularly. This way, you extend the lifespan of the flowers.
Frequently Asked Questions about Paper Sunflower Templates
Can I download the templates multiple times?
Yes, you can download these printable sunflower templates multiple times and on different electronic devices. Additionally, you can use these sunflower printables for different crafts and art projects.
How long does it take for the sunflower templates to load?
After downloading the templates, these paper sunflowers will immediately appear on your screens after extracting them from the ZIP file. These sunflower crafts can be background decorations for birthdays, weddings, and parties.
Should I use sticker paper when printing these sunflower templates?
While these easy sunflower templates are excellent when placed in a normal piece of paper, it also looks good when printed in sticker paper. When you print these templates on sticker paper, placing them on journals and scrapbooks becomes easier.